Bus Accident Attorneys Serving North & South Carolina
When You Come to Our Firm, You Become a Part of Our Family
If you or someone you know was injured in a bus accident, Crumley Roberts can help. We represent bus passengers, pedestrians, cyclists, and occupants of other vehicles who have been injured in collisions with buses in North Carolina or South Carolina. We understand that you are dealing with one of life's most difficult moments, and we want to take away the worry.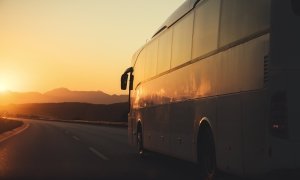 Handling bus accident claims can be challenging, as buses are typically owned and operated by corporations or government entities. Bus operation is also governed by special laws established by North Carolina, South Carolina, and the city in which the bus is operating. These factors present added difficulties that your lawyer must be prepared to face. At Crumley Roberts, we are up for the challenge. We are committed to following through on our promise to care like family, listen to learn, and do what's right.
The Serious Consequences of a Bus Accident
Bus accidents are one of the most serious types of traffic accidents that occur on North and South Carolina roadways. This is true for three key reasons:
Buses are large vehicles and can cause considerable damage when they are involved in a collision. Other, smaller vehicles are more likely to sustain serious damage in a crash.
Buses may carry dozens of people at a time, meaning more people may be injured in a crash.
Bus passengers may be standing at the time of a collision or may not be wearing seatbelts, increasing the likelihood of serious injuries.
With offices located across North and South Carolina, Crumley Roberts is here to serve your best interests. When you call our offices for a free consultation, you will receive kind insight from someone who will truly take your concerns to heart.
Give us a call at (866) 691-0607 if you would like to learn more about bus accidents and your rights. Our phone lines are always open.