North Carolina Dog Bite Attorneys
Helping Dog Attack Victims & Their Families
Has a dog attack left you or a loved one with serious injuries? The medical costs associated with these injuries can be extreme and can also leave the victim with lasting emotional trauma. At Crumley Roberts, we are here to help you through difficult moments such as this.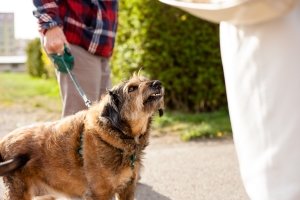 It is important to work with a dog bite attorney who understands the ins and outs of legislation and case law as it applies to dog attacks, owner liability, and the recovery of compensation for victims and their families. In North Carolina, dog bite victims may be able to recover compensation from the dog's owner.
Depending on the situation and whether you file in North Carolina, you may have to prove:
You were injured and your injuries were caused by the dog; and
The dog was dangerous or had attacked someone in the past, the owner was acting in violation of the animal code, or the owner was negligent in some way regarding the dog.
In North Carolina, a "dangerous dog" is described as a dog over six months of age running at large during the night, that has previously killed or injured another person, or that has previously been declared dangerous or potentially dangerous. In North Carolina, the injured party must prove that the dog was of a dangerous or vicious nature and that this was known or should have been known by the owner.
We Are Crumley Roberts.
When dealing with the physical, emotional, and financial burdens associated with a dog attack, you can feel as though you have nowhere to turn. We are Crumley Roberts, and we are here to help. We promise to care like family, listen to learn, and do what's right for your situation. As we handle your dog bite case, you can count on us to put your needs first.
For more information and a free consultation, please call us at (866) 691-0607.