North Carolina Workers' Compensation Lawyers
Helping Injured Workers Throughout North Carolina
If you were injured on the job, there's a good chance that you are entitled to workers' compensation benefits. Even when you do your best to stay safe in the workplace, accidents can happen. When they do, the attorneys at Crumley Roberts are here to take away the worry and help you get the benefits you need to cover your medical bills, lost wages, and long-term disability*.
We Take Your Concerns to Heart
At Crumley Roberts, our promise is to care like family, listen to learn, and do what's right. We know that without legal representation and guidance, injured workers often face an uphill battle to get the benefits that are rightfully theirs. That is why, when we take on a case, we do everything within our power to help our clients move on with their lives after a work injury or illness.
We stand up for our clients, the community, and each other. If you are looking for guidance after a work-related injury in North Carolina, we may be able to help by:
Calculating your medical expenses and lost earnings.
Completing all necessary workers' compensation forms and submitting them on time.
Negotiating with the workers' comp insurance company to secure fair benefits.
Our attorneys handle workers' compensation claims involving:
Injuries and illnesses that occur in workplace accidents or as a result of your job duties.
Injuries you sustain while traveling for work-related purposes, such as on business trips.
Injuries and accidents that occur on work premises, even if you are off the clock.
Because we handle every part of your workers' comp claim and will deal with your employer and the insurance company as needed, you can focus your time and energy on healing and spending time with your family.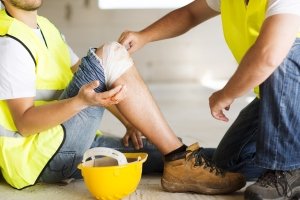 We Know the System
With three Board Certified Workers' Compensation Specialists on staff, as well as an entire team that has helped injured workers time and again, we know the system. We know which injuries and illnesses are covered by workers' compensation, we know how to deal with the insurance company, and we know the correct procedure for filing workers' compensation claims. These cases can be complex, but with Crumley Roberts on your side, you don't have to worry.
When you come to our firm, you become a part of our family. As such, we're committed to doing whatever it takes to seek the very best outcome for you.
---
Recommended Reading:
---
Crumley Roberts: Here to Listen. Here to Help.
Whether you slipped and fell in the break room, were involved in an accident in the company truck, got sick after exposure to harmful chemicals, or any other work-related injury or illness, workers' compensation benefits can help pay for your medical treatment and lost wages.
While your employer's insurance company may not have your best interests at heart during this time, the North Carolina workers' compensation attorneys at Crumley Roberts do. We exist to help injured workers get properly compensated, as well as receive the medical care they need during this difficult time.
We're here to listen, and we're here to help. Contact the caring staff at Crumley Roberts at (866) 691-0607 today.
Workers' Compensation FAQ
It can be difficult to understand the ins and outs of workers' compensation laws as they apply to your work-related injury or illness. At Crumley Roberts, we are prepared to offer insight regarding your unique case when you call our offices.
Below, we have also compiled answers to some of the most frequently asked questions to provide some basic information about workers' compensation.
We are here to protect your right to workers' compensation benefits. If you don't see your question below, we invite you to contact us for a free consultation!
What types of injuries are covered by workers' compensation?
Workers' compensation covers any type of injury that is work-related. This may include minor or severe injuries to any part of the body, as long as they occurred in the course of one's employment: at work or while performing one's job duties. Workers' compensation also provides benefits to families of workers who have lost their lives in work-related accidents or from occupational diseases.
Does workers' comp provide benefits for illnesses or diseases?
Workers' compensation does provide benefits for work-related illnesses and occupational diseases. This may include illnesses caused by hazardous exposure at the workplace as well as specific conditions: carpal tunnel syndrome, hearing loss, loss of eyesight, skin diseases, computer vision syndrome, lung disease, and more.
How long do I have to report a work-related injury or illness?
You have 30 days to report the situation to your employer if you work in North Carolina. If you work in South Carolina, you have 90 days to report your injury or illness to your employer. You should always report your injury in writing and should keep a copy as proof.
What does workers' compensation cover?
Workers' compensation provides benefits for medical treatment, medication, medical supplies, travel to and from medical appointments, and a portion of your wages while you are unable to work. It may also cover funeral costs and future wages for families of workers who have lost their lives in work accidents.
What if my claim was denied?
If your workers' compensation claim was denied, you can file an appeal. This usually involves an administrative hearing before a workers' comp judge who will hear your case and decide if benefits should be awarded.
For more information, please call our offices at (866) 691-0607.
*Each case is different and must be evaluated on its individual merits. Prior results do not guarantee a similar outcome in the future.